My laptop have temperature issues. To make a long story short, I will never ever buy a Fujitsu Siemens laptop again. Some people may agree with my opinion on this, some may not. However, the heating problems persist.
Searching for information about this problem I came into the idea of having a bigger harddrive cache, so that the drive wouldn't be used as much as it is now… and to my surprise – there is a setting on windows for that stuff.
[HKEY_LOCAL_MACHINE\SYSTEM\CurrentControlSet\Control\Session Manager\Memory Management]
"LargeSystemCache"=dword:000000001
Being careful, I googled the net to see what bad experiences people may have encountered with this tweak, and I found a lot of it. In other words, this is not a good solution.
At my previous job, I had an XP machine to work on. Since working with flash and videos takes a huge amount of memory, I wanted to use Readyboost on XP to ease up the burden for the machine. There is no readyboost for XP, but there is a way to do something similar. By moving the swap file to a USB drive, as shown in this blog.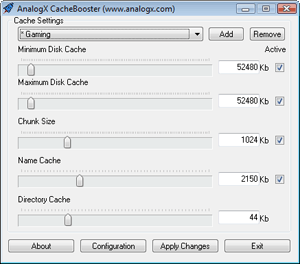 However, I use Windows 7 now, so I am using a small USB drive with ReadyBoost. 🙂 It helps easing the job for the harddrive and it doesn't get overheated, yay!
While searching for other ways to ease up the load for the harddrive I ran into AnalogX cachebooster. I used to use it on Windows 95 (i think) and it worked fine, and since they updated it 2009 I decided to try it on Windows 7.
Well, the machine seems to work a bit smother, so it must have done something good 🙂 I settled for the settings called "General Purpose".
It's worth a try 🙂